September 2018
Participating in the 26th annual 24-hour Art Marathon & Auction, CoCA Sanctuary, September 20 - 22 at the Summit at 420 East Pike Street, Seattle.
New paintings on panel as well as wood engraving. Stay tuned for more information.
Also beginning work on a show for You Are Here 406 in Jeanette, PA for March & April, 2019 entitled "Disconnections". More info soon.
Still working on the "CoDrawings" project initiated by
Juliet Shen which is a lot of fun. More can be seen here.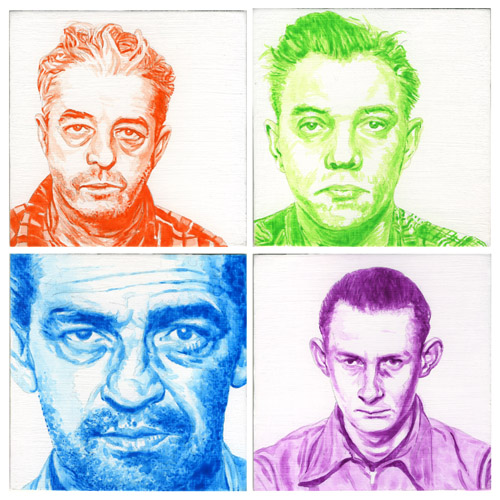 "the Arrested. #'s 5 - 8."
Acrylic on panel, 4"h x 4"w each, 2018.
Limited edition prints through Brad Benedict's
Sideshow Fine Arts
Available work page still online.
Check me out on Instagram!
Thank you for looking and feel free to email me.
chris [at] bagpainter [dot] com
Take it easy,
Chris